Classes, Groups and Events
We are open for all classes and groups. Mask wearing,social distancing, sanitising and registering your visit is a must for the safety of all.
Classes are tutored and run over 8 weeks throughout a term. Please note the term dates may vary from school terms.
Groups are not tutored, here members get together to share their crafts and time with each other. There are often very experienced members present who are happy to help, however there is no formal teaching. Groups run throughout the year starting with term one until the end of term four.
We will be adding more workshops and events as they arise.
Please feel free to contact us with any queries.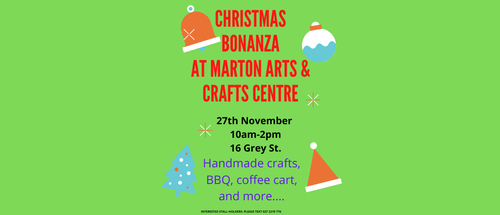 Our annual Christmas Bonanza is becoming well known for beautiful handmade arts and crafts and great food. Everything on offer is handmade by the stall holders. There will be a barbecue, a coffee cart or if you feel like it a scrumptious Devonshire tea!Powered by EventFinda....
Read More